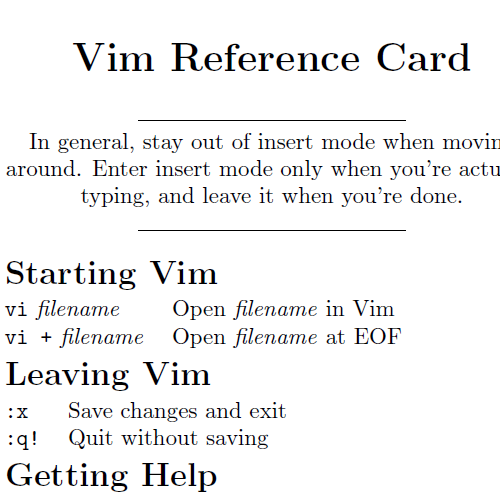 How to Learn Vim: Vim Refcard
02 May 2015
I'm a huge fan of reference cards like the one Emacs provides. In fact, I think that a good reference card is probably the best way to learn a new software program. Whether it's Vim or anything else.
Do you want to learn Vim? Print out this PDF, put it next to your monitor, and start using Vim whenever you need a text editor. Seriously. Just do it. It will be slow at first. In fact, it might be a little painful. But after an hour or two, you'll be cruising along like a seasoned vet. You'll be amazed how well you can remember the shortcuts - your brain can remember them because you were using them.
The Emacs refcard is really well done, but I couldn't find a similar one for Vim. This was disappointing because I know how useful a good reference card is. So I busted out my LaTeX editor and made one. It's open source, and available on Github. Feel free to open a pull request if you think it's missing anything important.