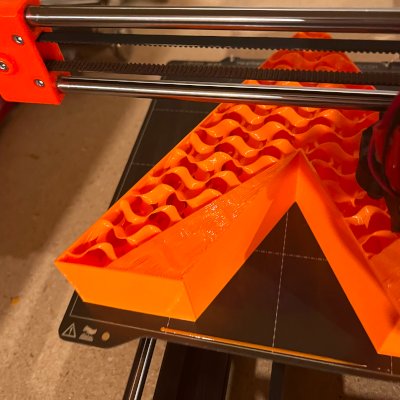 27 Apr 2023 · 3D Printing
I just added some new wall decoration to my home office, and I think it came out great!
I got the idea to 3D print the Strava logo a few weeks ago after seeing Martin Woodward's Octolamp. I designed and printed my own Strava logo, and it turned out even better than I expected. It's actually really easy for 3D printers to create shapes like this because it's just an extruded 2D shape. Vertical walls with no overhangs are a piece of cake to print. And while it looks like it uses a lot of material, it actually doesn't – the inside is mostly air, with a small percent of infill material for support. And I got lucky with the Strava logo – I printed each part separately, allowing me to print it twice as big as I otherwise would have been able to on my Prusa MINI. I completed a fun project, got a great wall decoration for my home office (fitting since I work for Strava), and the whole thing only cost a couple dollars in filament!
Continue reading…