LogRun: A Running Log in Google Sheets
Tuesday July 31, 2018
Projects
---
I made a training log in Google Sheets.
Even in the age of Fitbit, GPS running watches, and Strava, a training log in a spreadsheet is a useful tool. Because it's a spreadsheet, it can be used to analyze data in ways that websites and apps can't. Also, it can be incredibly motivating to set a goal and record your progression over time.
Update: I joined the software engineering team at Strava in April, 2019! So although I didn't work for Strava when I wrote this blog post, I do now! We're doing amazing things, and I'd encourage you to check out Strava or Strava Summit if you haven't. It's amazing how much motivation can come from being part of a community.
Without further ado, here's the training log in Google Sheets: LogRun with Sample Data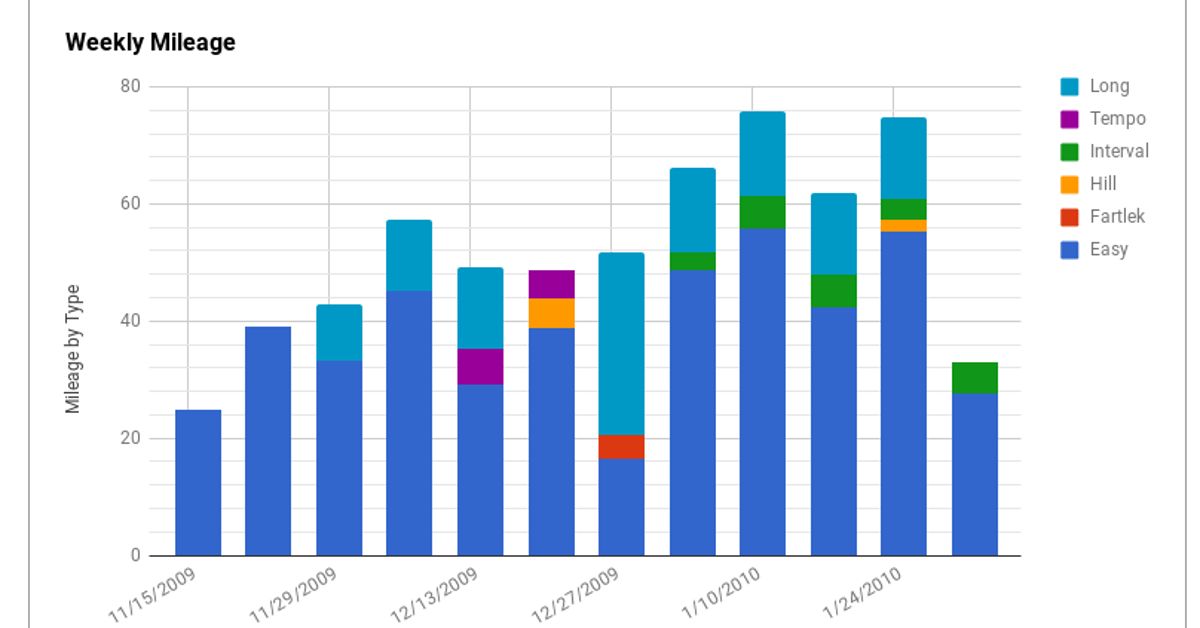 Features
Calculates average pace based on distance and time.
Displays weekly mileage, average pace, and time spent running in tables and graphs.
Breaks down stats by type of run (easy, long, tempo, etc).
Mileage graphs are a great visualization tool for spotting trends and measuring progression.
Tracks mileage on shoes.
Tracks race performance and personal records.
Long ago, David Hays published a similar training log in Excel. I wanted to create something that presented the data I found to be most important in the simplest way possible, and something that worked in Google Sheets. David Hays' training log was a big source of inspiration for me.
Create Your Own Training Log
Want to use (or modify) my training log to track your own workouts?
Visit the LogRun Blank Copy.
Click File, Make a copy... to save your own copy to your Google Drive. Or, Click File, Download as to download an Excel version.
NOTE: Do not request access to edit the blank copy. You must make your own copy first so that the blank copy remains available for everyone.
I hope someone finds it useful. If you like it, let me know @mike_kasberg!
---