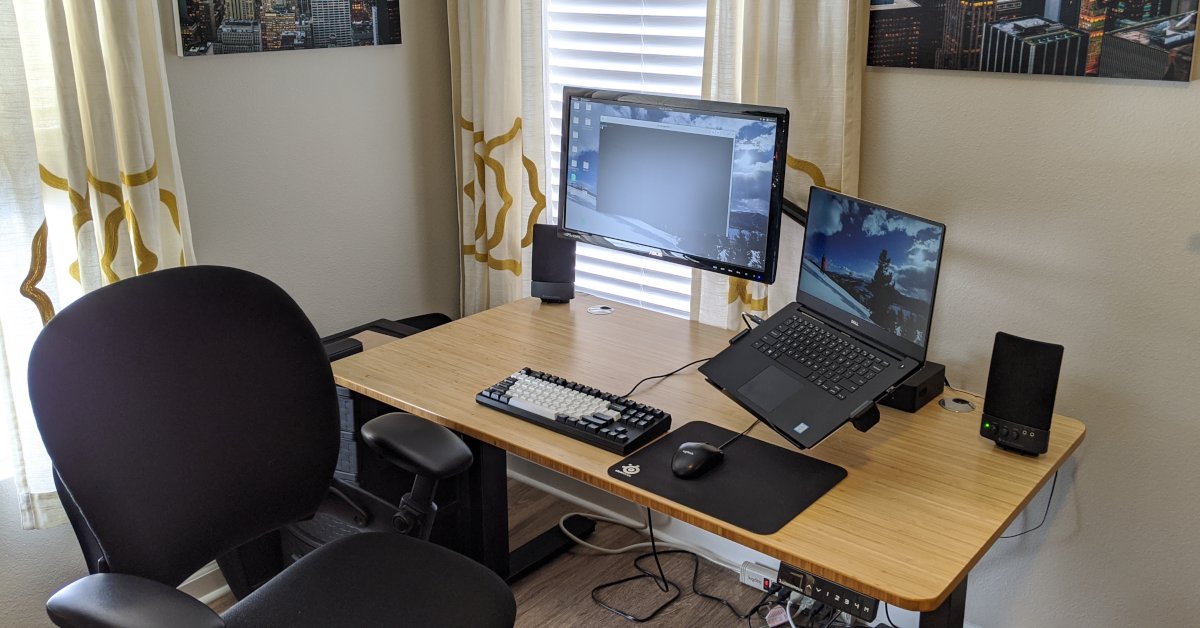 My Home Office Setup
10 Apr 2020
I've been meaning to write a blog post about my home office setup for a while now – and with mandatory work from home restrictions for COVID-19 in most places around the world, this seemed like a great time to write it!
I've been steadily improving my home office for years, creating a comfortable space that I like and that helps me be productive. And I'm really happy with it right now! Because of COVID-19, I've been working from home a lot more than I expected to, and it was a blessing to already have a good working space set up.
I think the best way for me to "give you the tour" is to walk you through some of the pieces I have and why I like them. So let's jump right in!
My Setup
My desk is the centerpiece to my workspace, and I absolutely love it! Although I spend most of my day sitting, it's nice to be able to stand for a while when I want to. I opted for the "premium" model (instead of "home office") not because I wanted it to go higher, but because I wanted it to go lower. A "standard" desk height of about 28 inches is actually way too high for most people to type in an ergonomic position – hence, the need for a keyboard tray for ergonomics – on most desks. But because my standing desk can go all the way down to 26 inches, it goes low enough that I use my entire desk as a "keyboard tray" and it's very comfortable for me to type in the lowest position. My monitors are still high enough that I'm not looking down at them because I have a good monitor stand. Of course, it is a standing desk, and I use the standing mode for about 30 minutes or an hour each day. The programmable buttons are a big convenience for changing height. If you've ever considered getting a standing desk, I highly recommend it, and I think Autonomous is a great brand to get.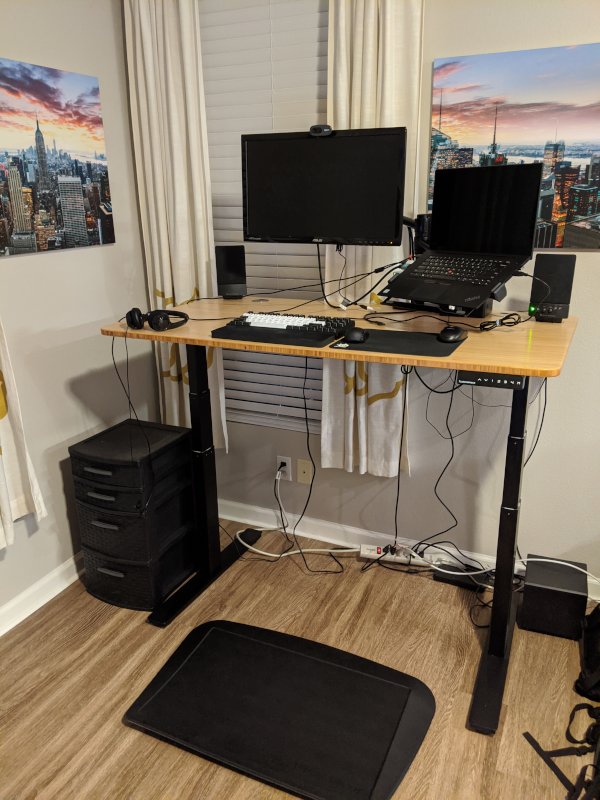 To complement the desk, you need a good chair. Working for 8 hours a day on a wooden kitchen chair won't cut it! My Steelcase Leap is a slightly older model, but it doesn't look like much has changed in the 2020 design. What I love about this chair is the large number of adjustments you can make. For a relatively small person like me, getting a shorter seat depth and more narrow arm rests makes a big difference! I give it 4.5 stars instead of 5 only because I don't like the way the arm rests slide in that much, and wish there was a better way to fine-tune the width and depth of the arm rests.
I added this monitor stand pretty recently, and I love it and wish I had invested in a good monitor stand sooner! Not only does the desk look a lot cleaner, I also got some valuable desk real-estate back because the monitor just floats above the desk. The stand holds a monitor on one arm and a laptop on the other, making it pretty easy to set both up at a good height. The Viozon mount I have looks great, but it's a little tricky to adjust and actually looks like it's sold out on Amazon. Anyway, with something like a monitor arm, I don't think the brand is terribly important – I just highly recommend a good monitor stand.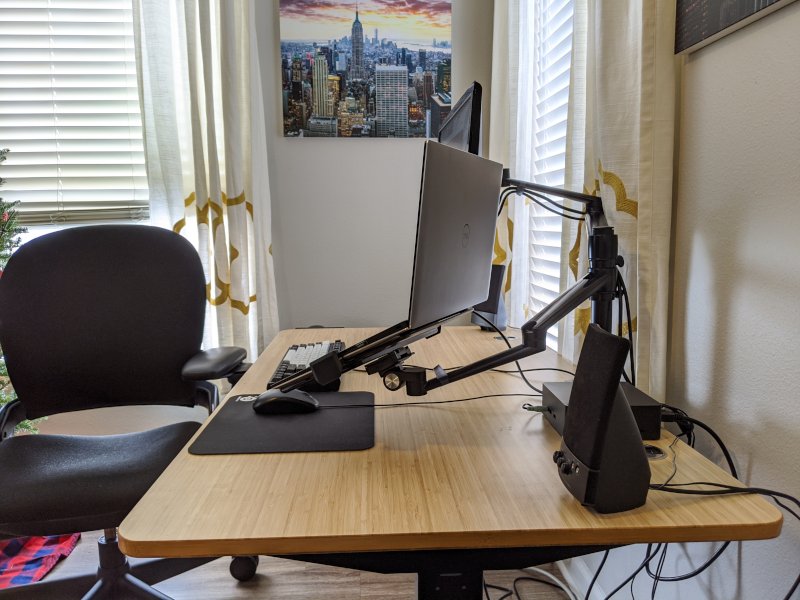 My WASD keyboard is another part of my work-at-home setup that I really love. In fact, I like it so much that I've bought two – one for work and one for home. WASD's are a little expensive, but totally worth it in my opinion – they look great and feel great to type on. I think my typing is a little faster and more accurate with a good keyboard like this, and mechanical keyboards are also much better ergonomically than a laptop keyboard.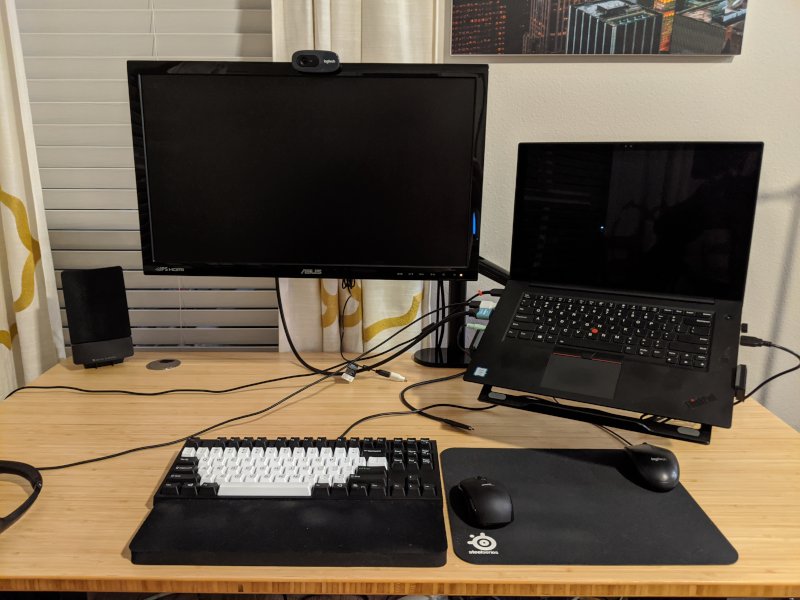 I tried a few "fancy" mouses for a couple years only to have most of them break after about 6 months of use. The scroll wheel is usually the first thing to go for me – I guess I use it a lot. I like this simple Logitech mouse – it's comfortable, durable, and gets the job done.
I put a lot of thought into buying this Dell Precision laptop as my home computer, and I'm really happy with it! I've already blogged about why I like this laptop, and you can read more about that here.
Dell TB-16 Dock
When I bought my laptop, I specifically looked for a model that was compatible with a USB-C dock. This dock has been great – plugging in a single USB-C cord charges my laptop and connects it to my monitor, keyboard, mouse, and speakers. A great investment that makes it quick and easy to take your laptop with you. While working from home recently, I discovered that this dock is also mostly compatible with my Lenovo ThinkPad work computer (it just needs separate power), making it easy to transition from one to the other!
WFH Extras
When you're working from home, a good headset is critical for communication with your team. I'm currently using a cheap Logitech H390. It's nothing fancy, but it gets the job done. The microphone and headphones are both very clear. Even though the headset's lightweight (a good thing), it can get a little uncomfortable after a while, and it isn't wireless. So this might be the next thing I decide to upgrade.
My Software
I run Ubuntu Linux with a vanilla Gnome desktop on my personal computer. I've grown really accustomed to it over several years, and I think it's the best desktop OS to use if you're a web developer. But that's probably going to be the subject of another blog post.
I hope you enjoyed reading about home office, and I hope I gave you some ideas to make your own home office setup more comfortable! All these opinions are my own, shared because I like to talk about this stuff. I wasn't compensated in any way for any content in this blog post.