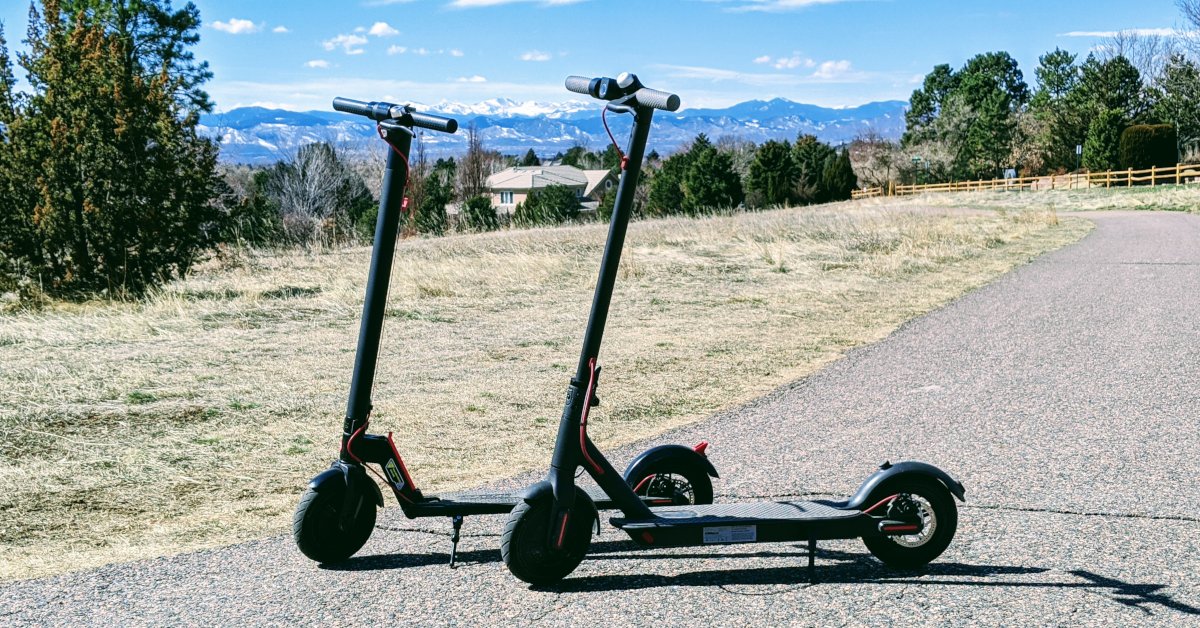 Comparison: GoTrax GXL vs Xiaomi M365
07 Mar 2020
For the last six months or so, I've been using an e-scooter on part of my commute to work. I've spent a good amount of time commuting on both the GoTrax GXL and the Xiaomi M365 so I thought it would be fun to write a review and comparison of the two scooters.
When I decided to start using an e-scooter as part of my commute, I wasn't sure how much I'd like it and how well it would work. So I wanted to try it without making a huge investment in case I didn't use the scooter as much as I thought I would. Because of this, I wanted the cheapest e-scooter I could buy that seemed like it would have reasonable performance - I wouldn't want something that went too much slower than the other options because it wouldn't be a fair trial. My search led me to purchase the GoTrax GXL (v2), and I was very happy with it for a while. Riding this scooter on my commute confirmed for me that commuting on an e-scooter was a good investment and something I'd want to keep doing.
After about 6 months, I started to experience some minor problems with the GXL. Its motor would cut out randomly - just for a second or so - every couple of minutes. While this didn't make the scooter completely unusable, it did make the ride less enjoyable. But by this time, I knew that I enjoyed commuting via scooter enough that I was ready to make a slightly bigger investment.
So I decided to to buy the Xiaomi M365 (also known as the Xiaomi Mi). The M365 is a little more expensive, but it's a popular scooter that's loved by a lot of people, and widely regarded as one of the best at it's price point. The size of the community around this scooter was a plus for me - it would be easier to troubleshoot or find parts, and I was also interested in experimenting with the custom firmware options. My first impression of the M365 was that it was powerful and smooth. Interestingly, however, something about the way it turns makes it feel a little less nimble than the GXL. Perhaps it's the handlebar angle or the placement of the battery, or maybe it just takes some getting used to. In any case, I was pretty happy with it overall!
After about a week on the stock firmware, I decided to try some of the custom firmware that's available (using the BotoX M365 Custom Firmware Toolkit). I primarily wanted to increase the top speed (thereby reducing my commute time). After some experimentation with several options, I settled on a relatively modest increase of the top speed from 28 km/h to 30 km/h, and I also bumped up the power to the DYoC setting (40165) and reduced the motor start speed to 3 km/h. I wanted to gain a little more performance without putting excessive wear on my motor or battery. I also discovered (to my dissappointment) that setting the max speed higher than about 30 km/h won't actually work - there's a separate mechanism somewhere that will reduce the power to the motor and prevent it from going faster. If you want to find out more about how to customize your own m365, read my m365 firmware mod tutorial.
I've been using the M365 for about two months now, and overall I'm quite happy with it. It gets the job done for a good price, and it's fun to ride. And although I've only owned it for a couple months, there are many reports online of users who are very happy with it after a year or more. If you're thinking about buying either of these scooters, I'd actually recommend either one of them depending on your needs. The GXL is probably the cheapest worthwhile e-scooter you can buy right now, and rides very nicely if you're not putting a ton of miles on it. The M365 is also a great e-scooter at a great price, and is a worthwhile upgrade if you want longer durability and some other improvements.
GoTrax GXL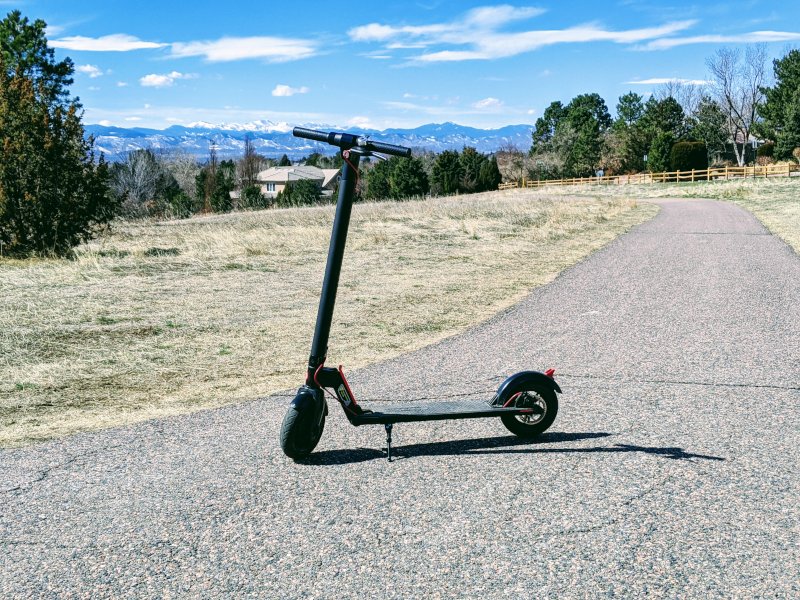 I own a GoTrax GXL (v2). It's very similar to the GXL (v1) and the GoTrax Xr.
The GXL has a better folding mechanism than the M365. I never felt any wobble or had problems with the GXL folding mechanism while riding - even though I often used it without the locking pin.
The GXL has a worse fold-locking mechanism (for carrying). The clip on the back fender has to be in exactly the perfect position or the scooter either won't stay folded or won't open easily.
The GXL has better ground clearance and feels like it rides a little higher than the M365.
The GXL seems to accelerate faster than the M365.
The GXL has a better display. It shows your speed, and seems fairly accurate to me.
No downhill speed limits - the GXL will let you pick up speed beyond its normal max when coasting downhill.
The GXL always starts in eco mode. And you have to hold the button for two seconds to switch to fast mode. This is a minor annoyance every time you turn it on.
The GXL has a shorter range than the M365.
My GXL motor had problems after about 6 months of use (~300 mi).
Xiaomi M365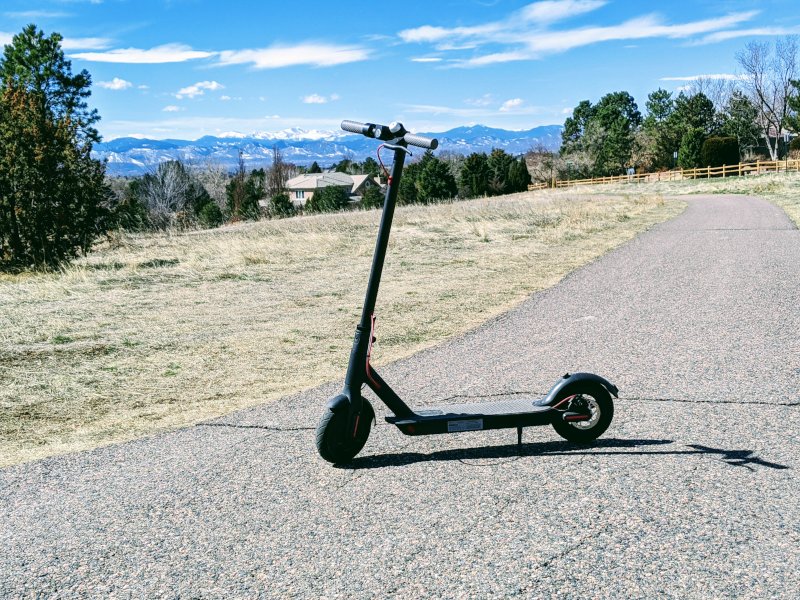 The Xiaomi M365, also known as the Mi Electric Scooter.
The M365 seems at least slightly faster than the GXL, even with stock firmware.
Much larger user base & community. This has lots of benefits - it's easier to find help, get parts, and even get custom firmware.
Custom firmware is available. Some users might not care, but this can be fun if you're into it. Although it's worth noting that you can't get that much improvement over stock. This won't double the speed or anything like that.
The M365 has a worse folding mechanism than the GXL. The handlebars squeak and wobble a little in the upright position.
The M365 has a better fold-locking mechanism (for carrying). The bell doubles as a clip and it seems very sturdy.
The M365 display doesn't show your speed unless you get the pro model.
Overall build quality of the M365 seems better than the GXL. Parts seem sturdier, and users have reported years of usage.
The M365 doesn't coast as well as the GXL - the M365 max speed limit applies even when going downhill.
The M365 feels less nimble than the GXL. But if you haven't ridden both scooters, you probably wouldn't notice.
The M365 has a better range than the GXL.