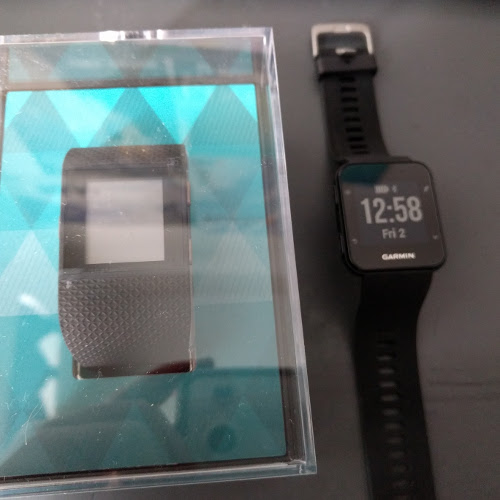 Fitbit Surge vs. Garmin Forerunner 35
18 Jun 2017
I was recently shopping around for a new GPS running watch, and I tried both the Fitbit Surge and the Garmin Forerunner 35. These devices are both good GPS watches with a similar feature set, so I thought it would be worthwhile to see how they stack up against each other.
---
2020 Update: 3 years after writing this blog post, I think both these watches are a little dated. I still think the Forerunner 35 is a great watch if you can find one somewhere (even used) - in fact, you can probably get this watch very cheaply today, and it's really still a great watch! If you're looking for something a little more modern, try the Forerunner 45. It's similar to the Forerunner 35, but newer. And if you want something with a lot more features, check out the Garmin fēnix series. I have a new fēnix 5s and I love it!
---
Fitbit Surge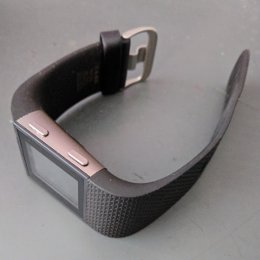 The Fitbit Surge is a solid choice for a GPS watch. As I write this, its MSRP is $249, but you can find it for about $150, new, on sites like eBay. At that price point, it is really competitive.
The Surge comes with all the features you'd expect on a GPS watch. It tracks your distance for a variety of activities including running, cycling, and hiking. It also tracks heart rate, and I found both GPS distance and heart rate to be reasonably accurate.
Now, Fitbit (the company) grew up making all-day activity tracking devices, and that heritage shows in the Fitbit Surge. The device can track your activity all day, and excels at syncing this information to the Fitbit app on your phone. This is where the Fitbit really shines - the app is easy to use and navigate. It's polished.
The Good
Syncs to Fitbit app & website.
Fitbit app & website look nice and are easy to use.
In run mode, you can see total distance, total time, and current pace. Scroll to see heart rate, average pace, etc.
Phone notifications for texts and calls.
The Bad
Missing more advanced running features like intervals or lap recall.
Does not support notifications other than text and calls. (No calendar notifications.)
Can't go back to look at recent notifications.
Can't go back to look at recent runs (on the watch).
Garmin Forerunner 35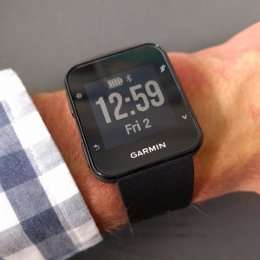 The Forerunner 35 is definitely a competitor for the Fitbit Surge. Officially priced (as I write this) at $199, it can be found for about $170 (new). The Forerunner 35 lacks some of the features of the Surge, but also brings some additional features that make it stand out.
While Fitbit grew up making activity trackers, Garmin grew up making GPS devices. Garmin has been making GPS devices for runners for a lot longer than Fitbit has, and that shows in the Forerunner. For example, the Forerunner 35 lets you customize the screens you see during your activity with any of roughly a dozen different stats. Things like distance, pace, average pace, time, etc. The Forerunner does a better job managing things like interval workouts - largely due to the fact that it has a better interface in run-mode that provides more information than the Surge does. You can even let the watch run your workout for you, as described here (although on the Forerunner 35 you need to set it up on the watch instead of the app). The Forerunner 35 is also a smaller device than the surge, and was therefore more comfortable to wear.
The Forerunner 35 is a runner's GPS, and with my background as a college runner, I appreciated all of the features it offered. Still, it has room for improvement. The Garmin phone app did not feel quite as polished as the Fitbit app. Garmin Connect (the phone app and web interface) provides more data than Fitbit but (as a result?) feels clunkier and harder to use.
The Good
Syncs to Garmin Connect app & website.
Customizable screens in run mode - see any stat wherever you want.
Support for interval training.
Supports most phone notifications (text, call, calendar, etc).
Small, comfortable, lightweight.
You can go back to look at run history on the watch.
The Bad
Garmin Connect app & website are not as easy to use as Fitbit.
Conclusion
Both the Surge and the Forerunner 35 are good devices. I'd give both of them 4/5 stars. If you want a device that has a really clean phone app, a more user-friendly interface, or all-day activity tracking, the Surge is definitely the way to go. On the other hand, if you'd prefer to have a more customizable run-mode interface, or if you want more advanced running features like customizable workouts, you'll be happier with the Forerunner once you figure out how to navigate the app. It's also worth mentioning that both of these devices support syncing to Strava. This is an important feature for me and is a huge plus for both of them.
(Update/Full disclosure: I'm now employed by Strava, although I wasn't at the time I originally wrote this blog. Opinions in this blog are my own.)